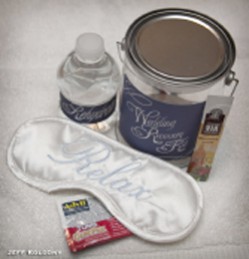 Sometimes those signature drinks are just too good and you need a little pick-me-up before brunch the next morning.
After a long night of champagne and dancing on the tables., guests will truly appreciate the thoughtfulness of this custom turndown amenity, delivered right to their hotel room.
Advil?  Check.
Custom Water Bottles?  Check.
Sleeping Mask?  Check.
A little Coffee? Check?
Before they even know it…. Brunch?  CHECK!!
Related posts