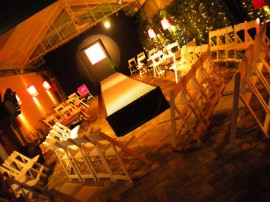 Walk, walk, fashion, baby!
The girls at The Planning Company are always up for a good time and a good fashion show! So Tuesday night we stopped by The Cottage in Lake Worth to check out Betsey Johnson's Spring Line for 2010.
At TPC we feel it's important to stay just as connected to the fashion world as we do the event world because a lot of the trends that are incorporated into events are inspired by FASHION! For example, people started wearing leggings all the time and (BOOM!) everyone is putting spandex on highboys. They're like leggings for tables! You see?
Anyways, back to the show! The models were fabulously fierce (to quote Tyra Banks) and the clothes were rocking. Just when you think you're seeing a cutesy little cardigan coming down the runway, the model abruptly turns and (BAM!) shows you a hot little blue-eyed vampire face that's been stitched into the back.
Betsey Johnson is so inventive as a designer and she has totally inspired the TPC team to push the envelope and develop decor ideas for events that will shock and WOW every guest (in a good way)! Thanks for a great show Betsey!
PS…Many thanks to our favorite Gaga, Jeff Fowler of The Breakers, for getting us in the front row to see the action up close and personal! Xoxo!
Related posts