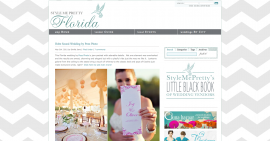 I loved planning my own wedding. So much so that a few months after the big day, I still found myself perusing wedding magazines and blogs. This is how I stumbled upon "Style Me Pretty", one of the most inspiring and delightful blogs in the wedding industry. After starting my job with The Planning Company, I boldly announced to everyone in our office that it was my absolute #1 goal to get one of our upcoming weddings published on Style Me Pretty.
Enter Joy, one of our beautiful brides, and her equally fabulous mother Grace. Both women had a stunning vision for Joy's wedding to her handsome fiancé, Oliver, and every stylish detail was discussed in great length. After our initial meeting, I thought to myself that this wedding could be THE ONE to help me reach my goal!
Needless to say Joy and Oliver's vision came to life and their wedding day was beautiful. And wouldn't you know, a few weeks ago, I got an e-mail from Joy's photographer (Pezz Photo) that their big day had been selected to be featured in the Florida section of Style Me Pretty ! Oh happy day!
But that's enough from me. Check out the blog post for yourself to read more about Joy and Oliver's stunning celebration. Off to set my next goal, maybe I'll shoot for a spread in Martha Stewart Weddings? We'll see!
Related posts